Alle Bestellungen unter/Order at : shop(at)obscurity-online.de
Hail Warriors! New Merch is on stock. You can use the shop-Email to order the new stuff. For your information: The Tenkterra Design and Black Design will not longer produce, so assures you the last items!
Great hail to all lions out there! Sing with us OBSCURITY!
:: CDs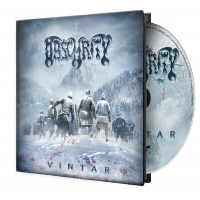 Album "Vintar" (2014)
Price : – Sold Out – (DigiBook Hardcase)
---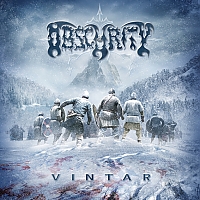 Album "Vintar" (2014)
Price : 12 Euro (Digi-Pack)
---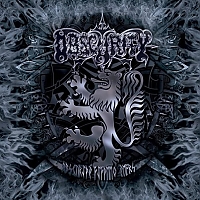 Album "Obscurity" (2012)
Price : 10 Euro (Jewelcase)
---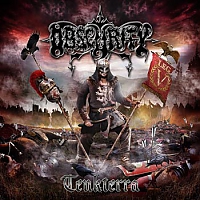 Album "Tenkterra" (2010)
Price : 10 Euro (Jewelcase)
---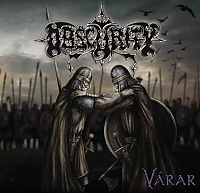 Album "Varár" (2009)
Price : 10 Euro (Jewelcase)
---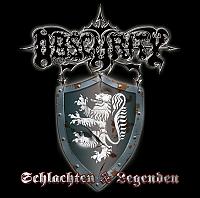 Album "Schlachten & Legenden" (2007)
Price : – Sold Out –
---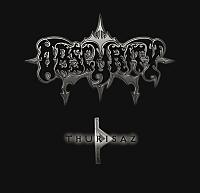 Album "Thurisaz" (2004)
Price : 8 Euro
---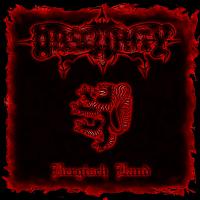 Album "Bergisch Land" (2000)
Price : – Sold Out –
---
:: Stuff
Shirt "Bergischer Hammer"
Price : 15 Euro (available in S, M, L, XL, XXL, XXXL)
---
Girlie "Bergischer Hammer"
Price : 15 Euro (available in S, M, L)
---
Zipper "Bergischer Hammer"
Price : 35 Euro (available in S, M, L, XL, XXL)
---
Shirt "Naglfar"
Price : 16 Euro (available in S, M, L, XL, XXL, XXXL)
---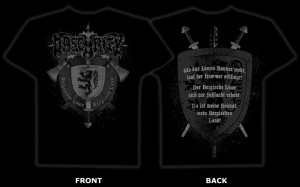 Shirt "Schild"
Price : 15 Euro (available in M, L, XL, XXL)
---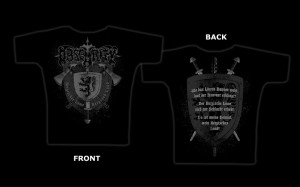 Girlie "Schild"
Price : 15 Euro (available in S, M, L)
---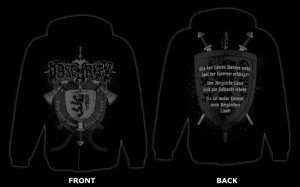 Kapu-Zipper "Schild"
Price : 35 Euro (available in M, L, XL, XXL)
---
Shirt "Bergische Löwen"
Price : 15 Euro (available in S, M, L, XL, XXL, XXXL)
---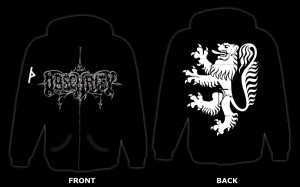 Kapu-Zipper "Bergische Löwen"
Price : 35 Euro (available in M, L, XL, XXL)
---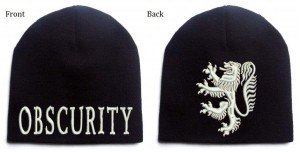 Obscurity Beanie
Price : 12 Euro – SOLD OUT –
---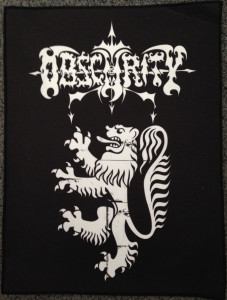 Bergischer Löwe Backpatch (40 x 30cm)
Price : 7 Euro – SOLD OUT –
---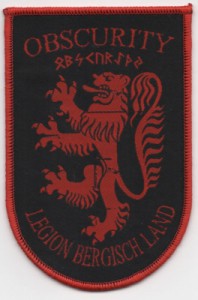 Legion Bergisch Land Patch (6,5 x 10cm)
Price : 3 Euro
---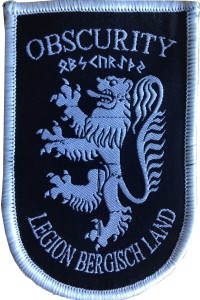 Legion Bergisch Land Patch (6,5 x 10cm)
Price : 3 Euro
---
Obscurity Logo Patch (10 x 7cm)
Price : 3 Euro
---
Obscurity Vintar Patch (10 x 7cm)
Price : 3 Euro
---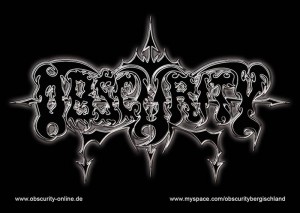 Obscurity Aufkleber/Sticker (10,5 x 7,5cm)
Price : 1 Euro
---